OUR BEER
The Bridgers, The Crazies, the Tobacco Roots, the Spanish Peaks. There are as many beers to brew as there are mountains around us.
And just as many flavors to discover, like beers made with the wild yeasts floating in the Bozeman air or barrel-fermented and aged beers. Mountains Walking is a mutual adventure as we try a new recipe and you tell us what you think.
Our goal is to make beers that pretty much couldn't come from anywhere but Bozeman. The climate, the altitude, the native yeasts—all these things make up our terroir, which will impact our beers.
For us, brewing is a harmonious mash-up of tradition and innovation. We intend to make everything, from classic lagers to bright and hoppy IPAs to sours and mixed fermentation. As a result, you'll find a beer for every taste.
Each visit to Mountains Walking will be a new adventure—a new conversation between you and us and beer in all its possible forms.
Here's a recent tap list (updated on July 30th):
Grazing Clouds, New England IPA
Our Gold Medal award winning New England Style Hazy IPA. Grazing Clouds is full bodied and bursting with layers of stone fruit and hop resin . Grazing Clouds showcases Galaxy hops from Australia.
Description: Hazy, Juicy, Tropical ABV: 7.5 IBU: 25 Hops: Galaxy, Citra
Tin Sky, New England IPA
Tin Sky is a hazy dream of tropical, white grape, and citrus-forward hops. This delicious New England Style Hazy IPA will make your taste buds dance to the rhythm of a tropical sunset.
Description: Hazy, Mango, Tropical ABV: 6.0 IBU: 30 Hops: Mosaic, Vic Secret
Junegrass, Northwestern IPA
This balanced Northwest Style IPA boasts a light, dry body with just the right amount of bitterness. Junegrass' generous hop bouquet underpins a dank citrusy flavor and a crisp juicy aroma.
Description: Citrusy, Crisp, Aromatic ABV: 6.5 IBU: 65 Hops: Centennial, Citra
Damsel Fly, Dry IPA
The Damsel Fly is a unique IPA that breaks free of traditions. This crushable Dry IPA is reminiscent of champagne with its bone-dry, elevated effervescence, and bubbly brightness. All of this with a touch of hops creates a magically crisp experience.
Description: Dry, Bubbly, Crushable ABV: 5.3 IBU: 5 Hops: Strata
Twisted Karma, Raspberry Sour
The Twisted Karma is a pleasantly tart and refreshing sour beer which bursts at the seams with bushels of real raspberries. This intensely red, tart and quenchable beer is loaded with flavor that will leave you wanting another.
Description: Fruity, Tart, Refreshing ABV: 4.6 IBU: NA
Digger Bee, Honey Rye
This golden beer is pure Montana. The Digger Bee is crafted with a mild sweetness of honey and the perfect hint of rye mingling with a classic noble hop spice character. The two together create the perfect beer for any Montana adventure. Grab a six pack or three, your friends, some tubes and float the day away.
Description: Golden, Smooth, Balanced ABV: 5.6 IBU: 18
First Frost, Nitro Vanilla Cream Ale
A classic nitrogen cream ale aged with Madagascar vanilla beans. The First Frost is smooth, creamy, and mellow like a favorite vinyl album playing on a lazy afternoon.
Description: Smooth, Creamy, Mellow ABV: 5.1% IBU: 16
Apricot Sour, Wild Brett Ale
Pucker up buttercup! This one-off Frankenbarrel release is a golden ale blend aged on wild Brettanomyces yeasts and aged with buckets of apricots, vanilla beans and a light kiss of spice.
Description: Sour, Funky, Fruity ABV: 7.2% IBU: NA
Nice Fella, Italian Pilsner
Are you looking for the perfect beer to crush while you're swimming with the fishes? Well, look no further. Nice Fella is a new age twist on a contemporary German style pilsner. It is dry hopped with highly sought after hops from New Zealand to add a soft yet fruity background. It's fruity, it's delicious, it's a pilsner. Don't overthink it, drink it!
White grape, Crisp, Smooth ABV: 5.4% IBU: 14 Hops: Nelson Sauvin
Sauvignon Brett, Barrel Aged
100% oak barrel aged Saison in sauvignon blanc barrels. This beer was refermented on pineapple. This process brings together a nice balance of sharp oak characteristics smoothed over by the fruity tropical aromas of the pineapple.
Pineapple, Oak Essence ABV: 6.2 IBU: 17
Ten Directions, Fruited Sour
This beer arrives just in time to quench your thirst after a long Summer day outside. Fruited with boysenberry & plum, this sour IPA provides a great balance between hoppy notes and tartness. Having gone through mixed culture fermentation, this IPA is packed with depth & complexity. This beer contains lactose.
Juicy, Funky, Fruity ABV: 5.1% IBU: 13 Hops: Mosaic, Vic Secret
Light Dusting, New England IPA
This beautifully crafted beer is fermented with a Norwegian yeast called Kveik that loves temperatures up to 100°F. Generous amounts of dry hops from both America and New Zealand, plus a ton of oats, make this a beer we're really excited about.
Stone fruit, Tropical, Hazy ABV: 5.5 IBU: 38 Hops: Idaho 7, Vic Secret
New Hokkaido Beer Company:
Snow Woman, Snowy IPA
Legend has it in Hokkaido Japan when unfortunate souls were lost in the cold, before their end, Yuki Onna, or Snow Woman would appear to them beautiful and serene, whispering comfort before transforming them into effigies of pure ice. Our Snow Woman is a hazy luscious IPA, brewed with Nelson Sauvin and Vic Secret hops for layers of tropical, peach, lychee and white grape flavors. Enjoy cold! (And don't get lost in the snow)
Description: Juicy Bouquet, Tropical, White Grape ABV: 6.5% IBU: 35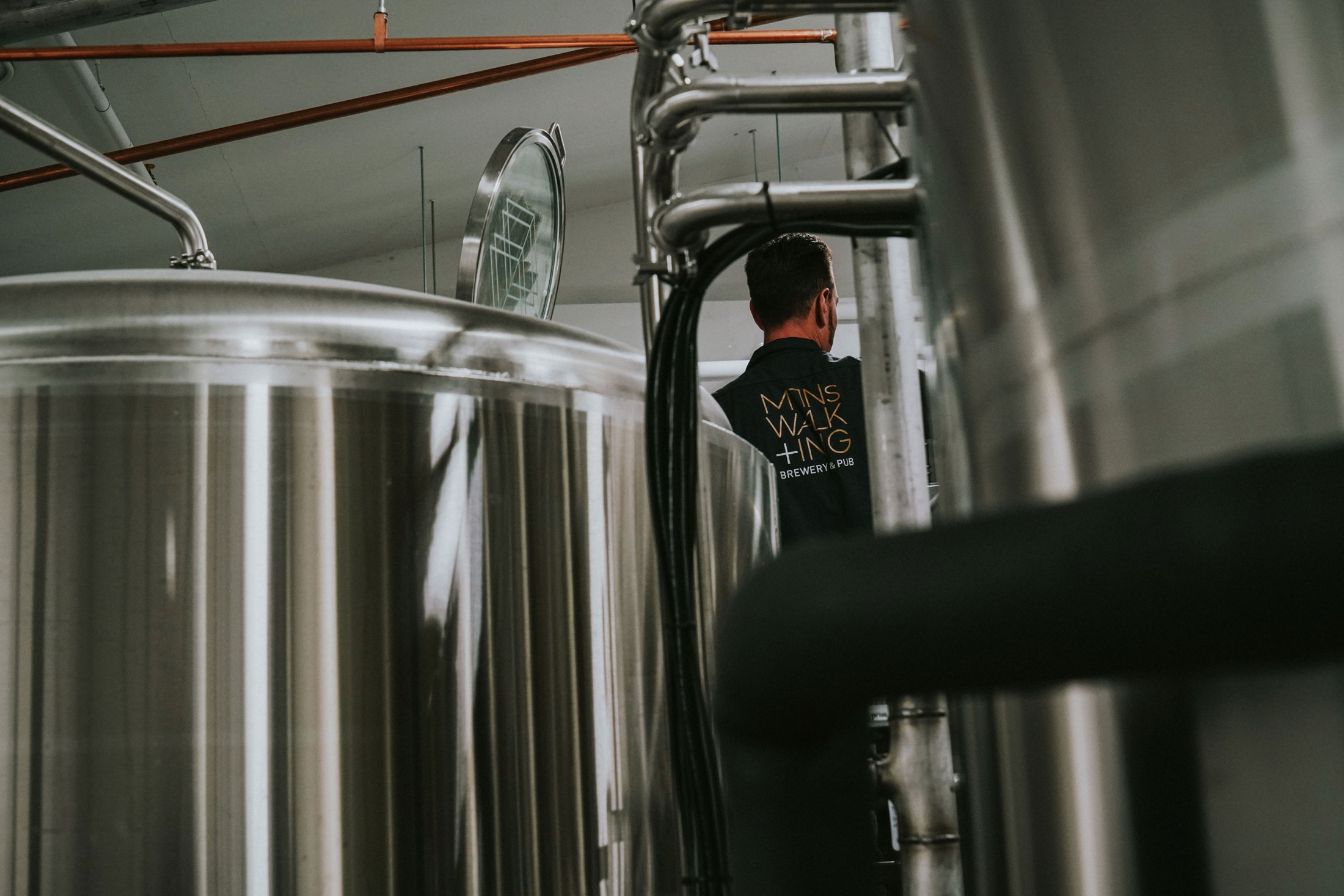 For our beer geek friends, here are some details about our brewery.
The production side of our building has 7000 square feet of space, which allows us creativity in fermentation time without worrying too much about running out of room.
Our brewhouse is a ten-barrel system with two mash tuns that gravity feed into the lauter. The two mash tuns allow us to run two different brewing styles at once. All of our tanks are touchscreen controlled, from hot side to cold.
We like using the latest modern equipment alongside old-school systems. For instance, our coolship open-fermentation room lets us collect ambient yeast and bacteria in the wort. We also have two 1000-gallon cypress foeders for mixed fermentations.
A guiding principal at Mountains Walking is our desire to actively learn from the yeasts we cultivate. They teach us about themselves and about what's possible.
In the future we'll be using wine barrels. We also plan to brew sake, and we're even planning to blend sake and sour beer. It's all part of our commitment to a path of discovery. We hope you'll join us.